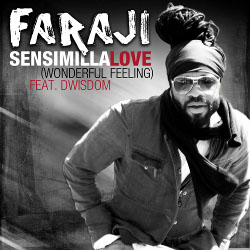 Lovers rock and soul vocalist Faraji delivers the sensual tune with passionate lyrics and smooth vocals on his latest release Sensimilla Love (Wonderful Feeling) featuring Dwisdom.
Faraji worked with producer Paul "GrooveGalore" KasticK for his debut release of 2012. It was recorded at the Groove Shack Studios in Kingston Jamaica, and evokes an all star cast of musicians, including the talents of Shaggy's musical director Michael Fletcher, guitarist Junior Jazz of Inner Circle, Reggie Griffin of Isley Brothers and Baby Face fame and drummer Paul KasticK, who performs with the likes of reggae star Maxi Priest.
Sensimilla Love (Wonderful Feeling) is available on e-tailers worldwide, and Faraji will be supporting Beres Hammond on the road in the first six months of 2012.