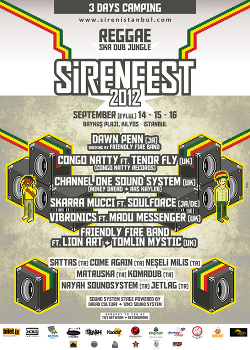 Over the weekend of 14th to 16th of September at the gateway to where East meets West, Turkey, will be hosting its third reggae festival at Baykuş Beach, Kısırkaya - Gümüşdere, Kilyos (Polis Okulu yanı) / İstanbul called SirenFest.
The line-up includes Dawn Penn, Congo Natty, Tenor Fly, Skarra Mucci and Soulforce, Vibronics ft. Madu Messenger, the Friendly Fire Band ft. Lion Art and Tomlin Mytic, the Channel One and Jam Jah sound systems plus many more local artists and sound systems.
To find out more visit their website at www.sirenistanbul.com or join them on www.facebook.com/SirenFest.