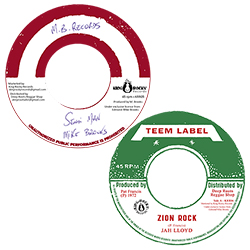 French label King Rocky Records just reissued two rare 7".
The first one is Sensi Man produced by Mike Brooks on one of his label, M.B. Records. It was released in Jamaica in a very confidential way in 1982. On B side, the vinyl includes a dub version of the song.
The second one is Zion Rock from Jamaican deejay Jah Lloyd. Originally released in 1972, it was one the first singles released on his own label Teem. The other side is an instrumental version of Rebel Rock by trombonist Vin Gordon.
These two singles are available now on 7" vinyls.