ReggaePR and United Reggae offer you the chance to win 5 albums Word Hard by Roberto Gell released in January.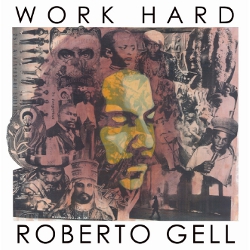 Roberto Gell is both songwriter and producer, working with a creative team based on both U.S. coasts, and in collaboration with the label and production company KRucial Reggae (who's promotional 'arm' is called ReggaePR). Dominican American, Gell came from the Caribbean himself, and blends those roots, as well as occasional Spanish lyrics, into the traditional Reggae format (with all live instruments), informed by his experience on the streets of L.A. and Boston (where he also picked up a solid Hip Hop influence).
Following up on tours from Southern California to New England, as well as in Canada (including various Festival appearances), Roberto Gell is projecting his new album "Work Hard" (fully released in 2012) to full exposure internationally, complementing it with video releases which capture both his energetic stage performance, as well as his philosophies (through interview footage).
This album follows up on Gell's EP "Midnight Ravers," and joins a solid roster for KRucial Reggae, which has included Jamaican star Abijah's "Moving 2 the Top;" Winstrong's "Eye of the Storm;" and several of (his backing band & recording artists in their own right) Dub Station's releases (including features with the likes of Shaka Black, Sonbeam, and more).
This competition is closed.