Bristol Archive Records have scored some success over the past two years with a number of highly regarded re-issues in form of both lost individual albums and long forgotten individual tracks on their 'Bristol Reggae Explosion' series.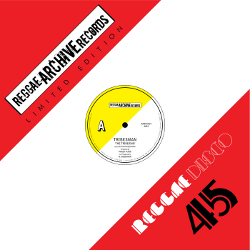 Now the team has expanded their insights to whole UK with the launch of the newly formed label Reggae Archive Records. The aim is exactly the same as with Bristol Archive Records – re-issuing obscure and previously unreleased reggae music of merit that has largely been forgotten and neglected and gives it a second chance.
To kick start things they've decided to release a sought after 12" from London band Tribesman. The Tribe/Finsbury Park was originally issued in 1979, and on the new 12" they've reversed the sides, meaning the rootsy The Tribe is now the A side whilst Finsbury Park is now the AA.
Both sides are extended disco mixes with the vocal leading straight into the dub and to complement the package, the record will be housed in a high quality Reggae Archive Records 12" disco sleeve.
The 12" and its digital download companion were released on September 3rd.