The third annual Tmrw.Tday Culture Fest will be held in Negril from 30 April to 5 May 2019. Billed as "part yoga retreat, part music festival, 100% life experience," the event features daily yoga classes, workshops on wellness, cannabis culture and sustainability, as well as meditation, ecstatic dance, and a "sound healing program."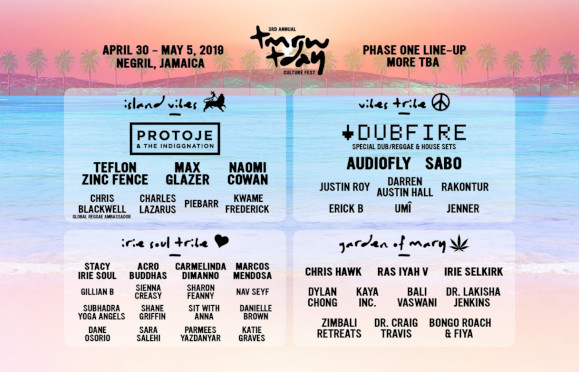 Scattered throughout different venues in and around Negril's beaches and western cliffs, the festival also has reggae and house music galore, with an impressive Jamaican line-up that includes Protoje and the Indiggnation, rising producer and Chronixx collaborator Teflon ZincFence, upcoming singing sensation, Naomi Cowan, as well as Island Records' founder, Chris Blackwell, who will provide illuminating testimony on his long role in reggae's progression, plus New York's Max Glazer of Federation sound. For the house heads, there will be beach showcases by Sabo and Love Cow, plus Audio Fly from Barcelona and, top of the bill, Dubfire, who will curate a live dub/reggae set.
Daytime yoga activities are held at Irie Soul's Beach Retreat, put together by the in-house Good Vibez Tribe and centring on lead yogi, Stacy Irie Soul, along with shamanic singer Darren Austin Hall, ecstatic dancer Carmelinda Dimanno, plus acro-yoga from the Acro Buddhas; the Tribe Talks lecture series will be hosted by spoken word artist Marcos Mendosa in collaboration with Nitasha Sarin of Mindvalley Toronto.
For more information, go to: https://tmrwtday.com.