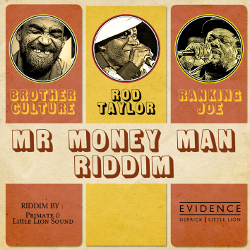 In 2013 Switzerland's Little Lion Sound collaborated with Weedy G Soundforce to lick back Dancing Machine by the late Wayne Smith.
For 2014 they have teamed with Primate for a tough four piece makeover of Rod Taylor's 1980 Junjo Lawes production Mr Money Man.
The vocal cut is a revisit to the original by Taylor. There are two anti-colonial deejay chants by the tongue-twisting Ranking Joe and the UK's Brother Culture. The rhythm itself comes as a subtle Scientist-influenced dub for ease of voicing over in a dance.
Mr Money Man is out now for download on Little Lion's label Evidence Muzik. It can be previewed on their soundcloud.