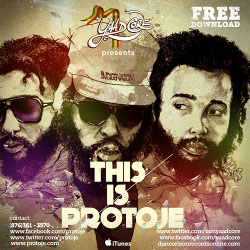 Prior to Protoje's debut album 'The Seven Year Itch' an album sampler mixed by selector Yaadcore was released. The sampler had five Protoje songs intertwined with dashes of the singer's commentary about each of them.
Now the pair has created another mixtape, but with less talking.
'This is Protoje' contains 23 tracks from Protoje's catalog, where of two are dub versions of Wrong Side of the Law and Dread. You should also pay special attention to track 19 – Our Time Come. It's previously unreleased and has producer Don Corleon singing the hook.
'This is Protoje' is available as a free download over at Protoje's website.