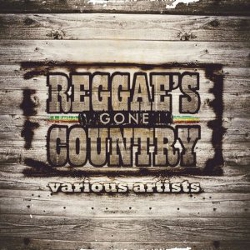 Reggae giant VP Records has teamed up with Warner Music Nashville on the upcoming compilation 'Reggae's Gone Country'.
As indicated in the title, this 14 track compilation is about country hits covered by reggae artists such as Beres Hammond, Luciano and Etana supported by reggae and country musicians.
"Reggae's Gone Country is taking some of Jamaican's favourite classic American country songs and putting their beats and whole instrumentation around it while still having that root of country. It is this crazy cool idea," says John Rich of the multi-platinum selling country duo Big & Rich and the winner of this year's Celebrity Apprentice.
The album opens with Romain Virgo's rendition of the Gatlin Brothers' 1979 hit California, with Larry Gatlin himself contributing vocals, while Busy Signal offers a rendition of Kenny Rogers' country-pop Grammy Award-winning The Gambler.
According to Cristy Barber, Vice President of Marketing and Promotions at VP Records and a Grammy nominated producer for the 2003 dancehall reggae-hip hop compilation album Def Jamaica, country has been a part of Jamaica's musical catalog for years.
"Everyone from 20-year-old kids to their grandparents listen to country in Jamaica. People are always so shocked when I say this, but the music plays such an important role in the Caribbean," states Cristy Barber.
Cristy Barber also hopes that these renditions will introduce and educate music fans everywhere to the talent that exists in Jamaica.
'Reggae's Gone Country' drops on August 30.