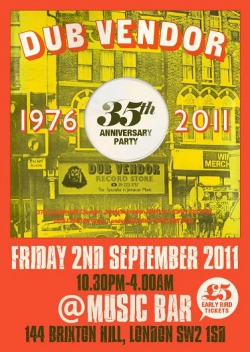 An era has come to an end. London's legendary record store Dub Vendor closes the doors to the shop on Clapham Junction as from Saturday September 10th.
On the website the staff writes that the recent events in London have accelerated the decision to concentrate on online and mail order services.
This put an even greater significance on the 35th anniversary dance that takes place on Friday September 2nd at the Music Bar in Brixton, London. This star-studded night will be hosted by the Dub Vendor All Stars along with a special guest – former Dub Vendor staff member Roberto Allen of Vibes FM.
Tickets to the anniversary dance are available on www.dubvendor.co.uk.