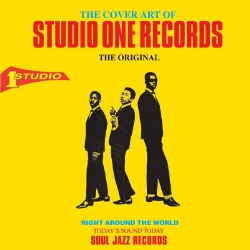 Soul Jazz Records is about to put out a book on the cover art of legendary label Studio One, owned and run by one of the greatest producers in reggae music – Clement "Coxsone" Dodd (1932-2004).
Studio One is sometimes described as iconic as Motown was to jazz, or Blue Note for Jazz. Several of the most beloved and utilized riddims were originally laid for Studio One by musicians such as Jackie Mittoo and Leroy Sibbles. Riddims like Full Up, Real Rock, Mean Girl and Satta Massagana saw the light at Studio One.
Chris Blackwell – founder of Island Records – has described Studio One as the University of Reggae. And there is some truth to that. Almost every well-known Jamaican artist from the 60's and 70's did recordings for the label – Bob Marley, Horace Andy, Alton Ellis, Burning Spear, The Abyssinians, Sugar Minott and many, many more.
'The Cover Art of Studio One Records' is edited by Stuart Baker and claims to be the first book ever to tell the story of Studio One and the many artists whose careers it launched.
It features hundreds of full-size Studio One record cover designs and original artwork, as well as rare and exclusive photographs, original flyers and artist interviews.
Available on November 30th. File it right next to your copy of 'Stir it Up: Reggae Album Cover Art'.