Curtis Lynch Junior of Necessary Mayhem has two simultaneous releases to see us into Autumn. The first is his Dancehall Style Riddim: a revamp of one of the unstoppable backings of the 80s - The Answer. The other is an EP celebrating his work with Etana, boasting new material plus reworkings of songs we know.
The Etana EP offers a sultry previously unreleased track called Make Love as well as an extended mix of both the vocal and dub to Inner City anthem August Town. Also from her second album, 'Free Expressions', come Heart Broken (on the Worth Your Weight In Gold) and Dance - exhibiting her demure and confident sides.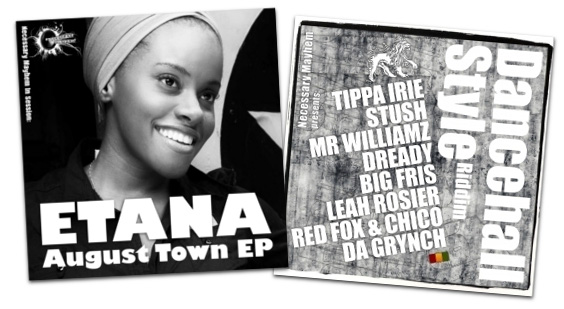 Meanwhile the Dancehall Style provides a base for the usual Lynch blend of familiar and fresh talent. On the title piece Tippa Irie takes us through a roll call of sound system heroes, UK and Jamaican, alive and departed. Mayhem Mainstay Mr Williamz gives a typically trancelike performance on the swaggering Set The Standard. Up-and-coming ladies include Dutch model-turned-singer Leah Rosier who showcases a pleasant voice on Do U Like and rapper Stush who supplies the lyrically humorous Call Mi Phone. But most surprising of all is Uncaring, a throwback organ instrumental played by Lynch himself. "I'm a huge fan of Jackie Mittoo" says Curtis, "So I thought it would sound nice to do something like he would if he was here with us".
Both EPs are available for download on 13th September with the Dancehall Style out on vinyl on 6th September.