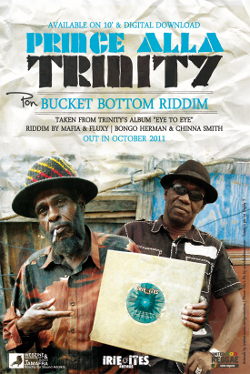 French production crew Irie Ites is set to put out a tribute to the late Jamaican producer Bertram Brown, the man behind the rough and tough Freedom Sounds label and artists such as Prince Alla and Earl Zero.
The Bucket Bottom riddim is laid by Mafia & Fluxy, Bongo Herman and Earl "Chinna" Smith and is a relick of the Prince Alla song of the same name. Prince Alla is also responsible for the title cut.
The riddim also features the talents of deejay Trinity, who has recorded an album for Irie Ites due in early 2012, as well as dub and instrumental versions
The Bucket Bottom riddim will be released in early October as 10" and digital download.