The Reggae 69 Fan Club, a website which is primarily dedicated to the sounds and inspiration of Jamaican music from 1964 -'69, has announced it is about to release a collection of eight, limited edition 7" vinyls aimed at collectors and lovers of the early reggae scene. The first release being lined up is from the godfather of ska himself Laurel Aitken, with Reggae 69 b/w Big Fight In Hell Stadium, and is going to be limited to just 300 copies world wide.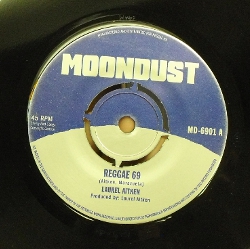 This will be followed by another classic Aitken release Apollo 12 (Skinhead Invasion) b/w Moon Rock before it is the turn of modern day bands the Irie Beats, Ocean 11, The Delirians, The Revivers, The Impalers and The Soulsteppers to roll out their own brand of Boss Reggae sounds, many of which have been previously unreleased or recorded especially for this collection.
All releases will be on the fan club's own Moondust imprint and will be offered in characteristic period styled packaging, with a UK Style centre punch so that they look as well as sound like authentic singles from back in those seemingly halcyon days.
To get a hold of these delightful releases first you have to join the The Reggae 69 Fan Club, you only need an email and to confirm your age. Just for doing this act you will be rewarded with the opportunity to get a free download of the sparkling organ driven instrumental 11 Anõs de Alcohol from Mexico's very own Jamaica 69. Then as the November release date approaches you will be sent an email so you can pre-order your set. The cost for all eight singles is $45 (plus shipping), or for $69 there is an option that includes a limited edition Chema Skandal art print, a Reggae 69 Centre Adapter for all your other old vinyl, plus a sticker/pin and postcard set.
Even if you don't own a record player but love those Ska and early Reggae sound s of the late '60s and early '70s it is still worth joining this fledgling club as there are videos, a forum and with the aim to help foster new music from bands around the world you'll get access to exclusive downloads and CD's in time as well as more limited edition art prints. Visit www.reggae69.com/r69/ to find out more.
(The Delirians Musical-Remedy is due to be the fifth release in the series).