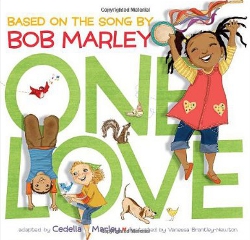 Bob Marley's oldest child – the three-time Grammy Award winner Cedella Marley – has adapted the lyrics from her father's beloved song One Love for a children's book. Its chorus "one love, one heart, let's get together and feel alright" has been the guiding star in her work.
The result is a picture book promoting family and neighborhood unity through a girl that enlists her community to help transform her neighborhood for the better.
The book bears the same title as the song and comes with colorful illustrations with some collage elements by Vanessa Brantley-Newton.
'One Love' is published through Chronicle Books in October.