When Soothsayers dropped lovely ballad We're Not Leaving backed with a Cornel Campbell version in August, fans of the group's current reggae direction could rest assured their next album would be a highlight of 2012.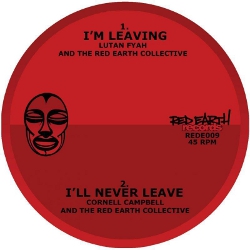 Now they have another 7" out on the same beautifully crafted backing, played by their loose band of musical spars Red Earth Collective. The A side comes from one of the most collaborative and well loved Jamaican roots artists - Spanish Town deejay Lutan Fyah. His raw but vulnerable tones are perfect for the poignant Autumnal rhythm and lyrically he continues the series' departure theme.
The B side is the vocal to the Cornel Campbell piece issued in August. Featuring that unmistakable falsetto, it's a strong followup to Soothsayers own cut.
I'm Leaving / I'll Never Leave is out on 7" on October 7th. Grab it while you can.