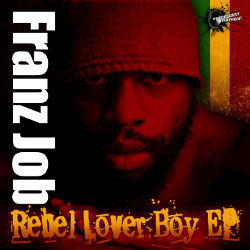 Trinibagoan singer and London-resident Franz Job has teamed up with Necessary Mayhem-producer Curtis Lynch for his new five track EP titled 'Rebel Lover Boy'.
Franz Job is no rookie in the music business and has also recorded for Curtis Lynch previously.
In 2009 Franz Job dropped his very worthwhile debut album 'Babylon is Dead', a set that included dub mixes courtesy of Dougie Conscious.
Earlier this year Franz Job voiced two riddims produced by Curtis Lynch. The Mr. Williamz duet Viva Marijuana on the Gorilla riddim and Special Lover on a relick of the Pass the Kutchie/Full Up riddim.
Special Lover is also included on 'Rebel Lover Boy', a set that drops on October 4th as digital download.