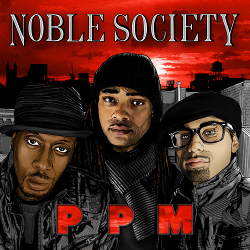 The versatile singer and deejay Jahdan Blakkamoore dropped his sophomore solo album 'Babylon Nightmare' in December last year to wide critical acclaim.
But Jahdan Blakkamoore is also part of Noble Society, a hip-hop/reggae group based in New York City. Their diverse debut album 'Take Charge' was put out in 2008, and three years later they are all set to drop the follow-up.
'PPM' (Powerful, Painful, Music) is produced by Ovaground Productions and engineered by Tony Dawsey, who also worked on Jay Z' eleventh studio album 'The Blue Print III'.
The first single For Life is currently available on Youtube and the album hits the streets on October 21st through French label X-Ray Production.