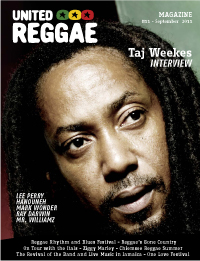 You can now enjoy the free pdf version packed with most of United Reggae content from September.
Leaf through or download it now!
In this eleventh issue, you will find interviews from Taj Weekes, Lee Perry, Mark Wonder, Alpha Blondy, Ray Darwin, Mr Williamz and Hanouneh. We also talked with Dubtonic Kru and The Uprising Roots Band about the revival of Jamaican live bands.
This magazine also includes photos and reports at Reggae Rhythm and Blues Festival, Chiemsee Reggae Summer, Rototom Sunsplash, Reggae's Gone Country album launch, Ziggy Marley in Italy, The Itals on tour and more.
+ news and reviews with Capleton, I-Wayne, Brushy, Prince Alla, Jahmali, J Boog, Midnite, Black Roots, Little Roy and many more.
The magazine can be read online or downloaded for free. And you can now also get a paper copy. Details here.