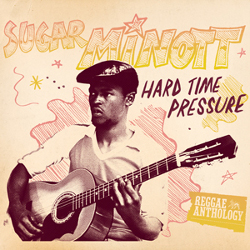 The late singer and producer, as well as label and sound system-owner, Sugar Minott passed away last summer, and VP Records' subsidiary 17 North Parade now drops the three disc anthology 'Hard Time Pressure' with some of his best work.
'Hard Time Pressure' highlights his long recording career that bridged three major eras in reggae – from Studio One to lovers rock to the digital dancehall era, where he earned the title the Godfather of Dancehall.
During his career he managed to record over 60 albums and was also responsible for finding new talents such as Junior Reid, Yami Bolo and the late Tenor Saw and Garnett Silk, who recorded his first song for Sugar Minott.
This three disc set includes two CD's with 36 tracks and a DVD with live video footage of Sugar Minott performing at JapanSplash concert in 1986. 'Hard Time Pressure' hits the streets on October 18th.