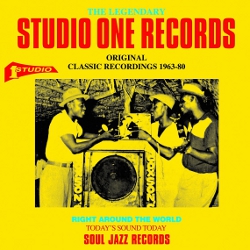 It has been three long years, but now it seems that Soul Jazz Records is back on track with reissuing Studio One material.
In September United Reggae reported about the upcoming book on the cover art of Studio One, published by Soul Jazz Books in November.
To accompany that set is a brand new 18 track compilation featuring both well-known Studio One cuts as well as lesser known ones. It features The Skatalites, Lone Ranger and Horace Andy among others.
'The Legendary Studio One Records' comes in a jewel case with slipcase style CD, limited edition gatefold heavyweight double vinyl and exclusive digital download.
The CD and the 2xLP both have all tracks.