Roots Hitek who delighted us earlier this year with their 'River Niger Riddim', a mighty slice of modern roots reggae on 10" vinyl, are now about to do it again with another 10" release.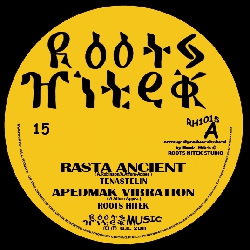 This time it will feature the vocals of UK roots veteran Tena Stelin, whose first release was the acclaimed 'Wicked Invention' way back in 1989 and who more recently came out with Spiritual Kinsmen and Cosmic Session also with Roots Hitek with both these and other tunes to feature on a future album collaboration.
Flip it over and you will find the Reality Souljahs from out of east London with Come Along. This duo released the album 'Everyday Reality' in 2008 and since then have been making a name for themselves across Europe and in the roots world in general with further releases such as last years 'Jah Pon Mi Mind' for Reality Sound System .
As usual both tracks come with the obligatory Roots Hitek dubs versions Apedmak Vibration and House Of Dub.