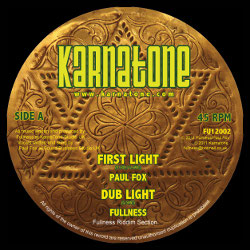 First Light b/w No More Fire is the new EP from Paul Fox meets Fullness, released last month on KarnaTone records.
Paul Fox has been actively involved on the UK's Sound System scene since the late 1980s but it wasn't until a meeting with Nick Manasseh in 1992 that he got to record his first release Writing on the Wall b/w African Mask. Since then he has gone on to work with the likes of Michael Rose, Robert Tribulation, from the Great Tribulation Sound System of the 1970's plus roots dub duo Alpha and Omega.
Fullness is multi instrumentalist and producer Gavin Sant who created the KarnaTone studio and record label to produce and release his heavyweight roots and dub reggae recordings.
The music mixes digital and live techniques and his recent works such as the Dubheart Solid Foundation Riddim and Walk Of Life have been very well received on Sound System circuit especially by Channel One sound.
This release is limited to just 500 copies and is available to order from fullness@live.com or for more details visit www.fullness.co.uk.