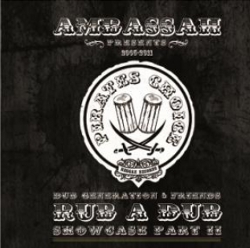 Spanish producer Ambassah has alongside fellow Spaniard Roberto Sánchez put together the compilation 'Rub a Dub Showcase Part II' for the label Pirate's Choice Recordings.
This 17 track album collects all of all of the Pirates Choice 10" releases as well as no less than eight previously unreleased tracks, where of one from Alpheus and one from Linval Thompson.
The tracks were recorded between 2005 and 2011 and carry some heavy early 80´s rub a dub sound. Featured artists include – apart from those mentioned above – Kenny Knotts, Horace Martin and the late Sugar Minott.
Look out for 'Rub a Dub Showcase Part II' on November 1st.