Springline Records present a new various album from many of today's budding underground artists. The album titled 'Riddim Full A Culture' is touted as being by the Community Allstars but this is not a single band rather a band of many, who through there love of reggae, have been brought together on various community websites and have given a track each for the album.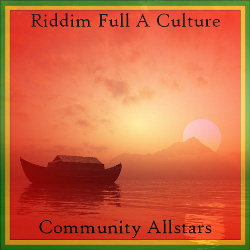 The artists of this collective come from Europe and the US with the UK giving us the most with artists Digikal Roots a musician and producer who released the album 'Let There Be Version' in 2010 and has since followed that with a dub EP and another album entitled 'Dread Force Dub'. Gadman Dubs one of the foundation profilers at these community sites and a digi dub disciple. There is also El Bib who recently released 'Revolutionary Dub Vibrations' an album series that currently stands at 3 volumes plus another dub activist Dub Alchemist who has some heavy duty UK dub fashions. King Dauda adds some thematic dub to proceedings while veteran multi instrumentalist and dub producer Yabass recently released 'Back Yard Dub' on Phoenix City Records and brings his analogue recording techniques, featuring live drums, for a mid seventies Tubby inspired sound. There are rootsy flavours from The Manor with a sound that pays homage to early Wailers and Perry ark style, while Willie Steen broods on a deep digi-roots-dub. Finally wrapping up the UK contingent is David Powell an artist of 'Multi Genres' who here gives an up-tempo almost rockers feeling number with some vocal snippets from 80s Toaster Horseman.
From German there is roots and culture in the form of Iditafari Family who are in fact a real family and are well known across these community sites for their love of true roots and conscious lyrics. Another German group are the Droegen Bwoys, a 7 piece outfit that features underground foundation vocalist and DeeJay 'I Rebel'.
From the US comes multi instrumentalist Steve Steppa who has released 5 albums covering a multitude of reggae & dub styles as well as collaborating with dozens of artists and riddim producers; primarily Flow Production and El Bib. It's back in to dub territory again for Albusark Studios and David Pablo then travelling just up the road to Canada we find Denja with one of his surreal dublike workouts.
'Riddim Full A Culture' is an album that highlights just some of artists out there that are going unnoticed by many but who have shown they can match their better known peers when it comes to making quality reggae and as one 'wise old' underground artist has been saying for a while now; it's "Real People Music".