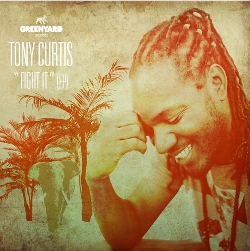 Jamaican singer Tony Curtis has collaborated with Greenyard Records – led by Zigo from French group Dub Inc – on his new EP titled 'Fight It'.
This is Greenyard's first single artist release. Previous sets include one riddim albums such as My Son, Jah Light and Design. The latter included the wicked Part of My Life by Sara Lugo which was featured on her debut album.
'Fight It' contains six tracks, of which two are combinations with two veteran hardcore deejays – Burro Banton and Cutty Ranks. It blends modern roots with the energy of dancehall.
Look out for Tony Curtis' 'Fight It' on CD and digital download on October 25th.