Once again Tad's Records teams up with the late Gregory Isaacs' own label African Museum for a compilation.
'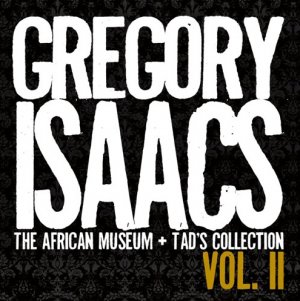 ' is a two disc collector's item featuring more than 40 singles from Isaacs' illustrious catalogue including My Number One, Front Door, Tune In and Slavemaster. The compilation also includes an extended version of his 1982 international hit Night Nurse.
"Gregory Isaacs is one of reggae's greatest artists. In 2008, Tad's partnered with African Museum for Gregory Isaacs - African Museum & Tad's Collection Vol. I. Now that Gregory has joined the ancestors, we will see to it that his music lives on with Vol. II," says Tad Dawkins, CEO and owner of Tad's Record in a press release and adds:
"Gregory and I have a long musical history together, and I'm glad to honor him and celebrate his legacy."
Part of the proceeds from the sales of the album will benefit the Gregory Isaacs Foundation, established in July this year by Gregory Isaacs' wife June Isaacs.
"The foundation will be offering assistance to the St. Barnabas Basic School in Fletcher's Land, the first school Gregory attended," says June Isaacs in a press release.
June Isaacs will also utilize the tribute album to launch a drug awareness campaign in memory of her husband, who battled drug addiction throughout his 42-year career. His cocaine addiction caused irreparable damage to his voice and led to several arrests for drugs and drug-related crimes.
"November is Drug Awareness Month in Jamaica, I am working on editing some audio statements from Gregory about his own drug abuse to use as a message to stay off drugs," states Ms. Isaacs further in the press release.
'Gregory Isaacs - The African Museum & Tad's Collection Vol. II' will be available in stores and on digital outlets on October 25th.