Its been a bit quite at Trojan Records since the release of their 5 CD box set back in the summer, but now as autumn prevails they have announced the release of two CD's that will feature first one of Jamaica's greatest vocalists Desmond Dekker and secondly one of its best loved bands The Ethiopians.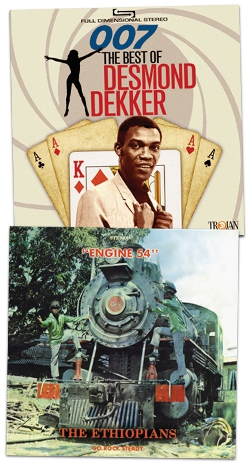 The Desmond Dekker release is a 2 CD 'Best Of' and will feature all of his biggest hits from the '60s and '70s, including the UK chart hits, 007, Israelites, It Mek, Pickney Gal, You Can Get It If You Really Want and Sing A Little Song plus an array of alternate takes and previously unissued gems from the golden ages of Rock Steady and Boss Reggae.
The Ethiopians release will be in the form of their classic 1968 album 'Engine 54'.
It is now 42 years after its original release and this seminal album is finally being released on CD as part of Trojan's highly acclaimed Originals series. As with other titles in the range, the original artwork has been faithfully reproduced, with the original Jamaican analogue tapes from 1968 used for its mastering and thus making it something of a fitting if unintentional tribute to Leonard Dillon who sadly passed away recently.
Both of these discs are to be released on October 31st but are available to pre order from the Trojan shop now.