On November 7th Dubmatix is to release 'Clash of the Titans' the System Shakedown Remixes, on, CD, digital plus a very limited (500, hand numbered) double 12" vinyl formats.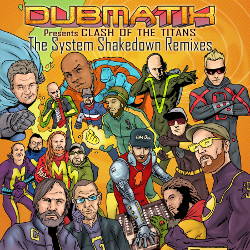 The album, as you'd probably already guessed, takes tracks from last years 'System Shakedown' and puts them into the hands of an amazing cast of remixers/producers from around the world including Zion Train, G.Corp, Marcus Visionary, Liondub, Vibronics, Victor Rice, Dubvisionist, Mungo's Hi-Fi, Aldubb, Nate Wize, TVS, Subatomic Soundsystem, and Webcam Hi-Fi, with the digital release also including bonus tracks from DJ Shine, Eccodek and DJ Brace.
The remixes that this large contingent have produced are very diverse and take in traditional rootsy dub, dubstep, ragga, jungle, future dub and what I'd describe as almost a minimalist funk in one case.
You can hear snippets of the tracks and order the digital copy from junodownload.com while the CD and vinyl formats are available for pre order from Amazon.