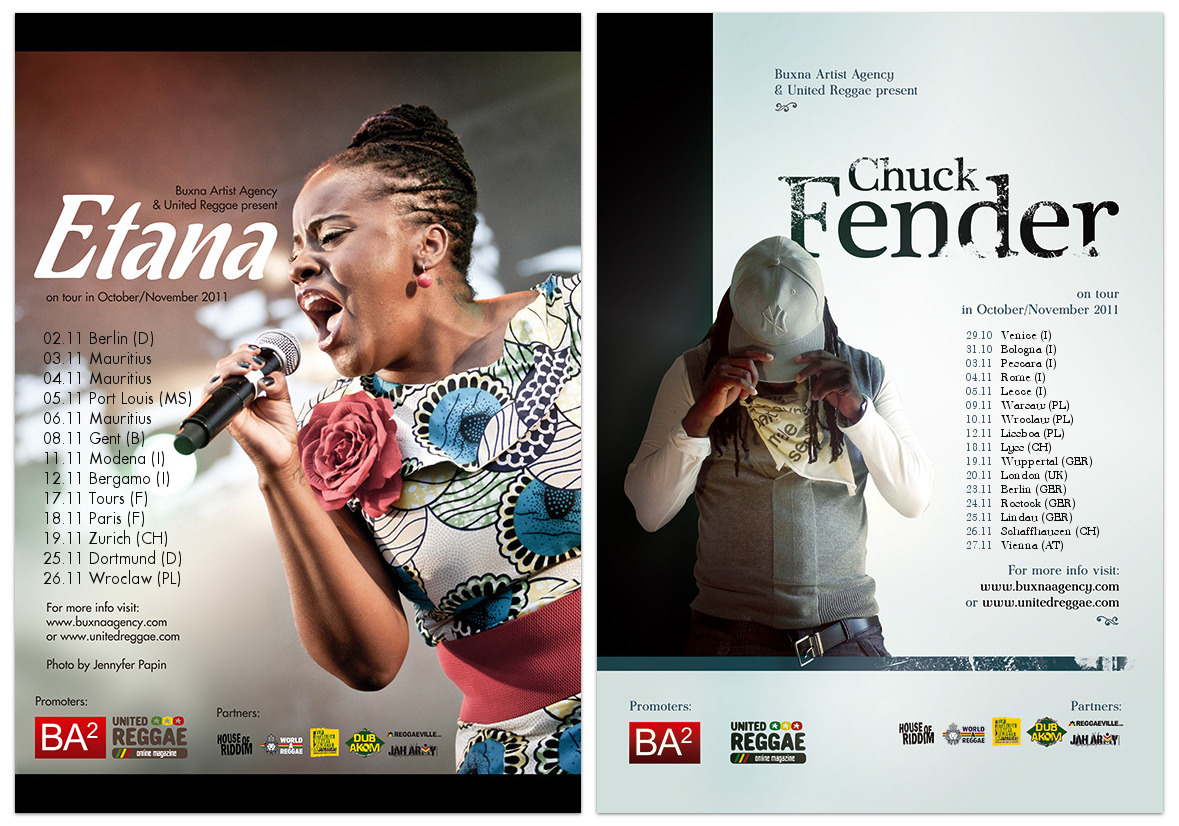 United Reggae continues to support reggae music in a variety of ways. The latest initiative is to support Jamaican songstress Etana and U.S. born cultural singjay Chuck Fender on their respective European tours.
Etana toured Europe this summer and made several memorable performances on the festival circuit. The new tour starts on November 2nd in Berlin, Germany, and finishes on November 26th at the One Love Festival in Poland.
Chuck Fender hasn't toured Europe for some time. Now you have the opportunity to catch him around Europe. The tour started on October 29th in Venice, Italy, and will round off Vienna, Austria.
Etana shows:

02.11 Berlin (D)
03.11 Mauritius
04.11 Mauritius
05.11 Port Louis (MS)
06.11 Mauritius
08.11 Gent (B)
11.11 Modena (I)
12.11 Bergamo (I)
17.11 Tours (F)
18.11 Paris (F)
19.11 Zurich (CH)
25.11 Dortmund (D)
26.11 Wroclaw (PL)

Chuck Fender shows:

29.10 Venice (I)
31.10 Bologna (I)
03.11 Pescara (I)
04.11 Rome (I)
05.11 Lecce (I)
09.11 Warsaw (PL)
10.11 Wroclaw (PL)
12.11 Lisboa (PT)
18.11 Lyss (CH)
19.11 Wuppertal (GER)
20.11 London (UK)
23.11 Berlin (GER)
24.11 Rostock (GER)
25.11 Lindau (GER)
26.11 Schaffhausen (CH)
27.11 Vienna (AT)