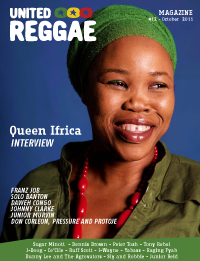 You can now enjoy the free pdf version packed with most of United Reggae content from October.
And we are proud to offer the first free digital music sampler together with this issue. It contains 18 tracks from several of the artists that are covered in this twelfth issue such as Bunny Lee, Sugar Minott, Protoje, Daweh Congo, Raging Fyah, Tony Curtis and more.
Download the digital magazine and the sampler for free now!
This issue includes interviews from Queen Ifrica, Daweh Congo, Johnny Clarke, Junior Murvin, Don Corleon, Pressure and Protoje, Solo Banton and Franz Job and also photos, reports, news and reviews.
The magazine can be read online or downloaded for free. And you can now also get a paper copy. Details here.