The Scotsmen behind Mungo's Hi-Fi have for years collaborated with veterans including Ranking Joe and Earl 16 as well as performing with new talents such as Solo Banton and YT. And their momentous 'Soundsystem Champions' album, released some three years ago, included tough tracks such as Top Cat's Herbalist and Marina P's jazzy Divorce a L'Italienne on the Belly Ska riddim.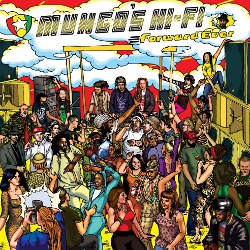 Today their follow-up hits the streets. 'Forward Ever' is according to the press material "a distilled concoction of soundsystem smashers" and features singers and deejays such as Sugar Minott, Kenny Knots, Pupa Jim, Soom T and Omar Perry.
'Forward Ever' is also stated to have originated and evolved in the Jamaican sound system tradition capturing moments from live sessions and taking them fresh into the studio. Each track has also been picked for the positive reaction it has received when played live. Accordingly it is also compiled by how Mungo's Hi-Fi would play it in the dance.
You can pick it up on 2x12" 180g vinyl in gatefold sleeve or as a CD.