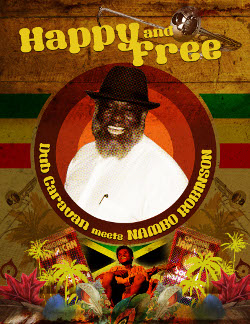 Jamaican trombone player Nambo Robinson has played on countless reggae songs and worked with several of the island's most prominent producers.
Now he has teamed up with UK-producer Dub Caravan for an album titled 'Happy and Free', where Nambo Robinson not only honks his horn, but also takes the microphone and sings on four tracks.
'Happy and Free' also holds four dubs/instrumentals as well as two bonus tracks.
Look out for 'Happy and Free' on 12" vinyl and digital download on 1 December.