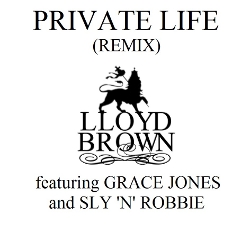 November is the traditional time when reggae singer Lloyd Brown drops his annual album releases.
This year, however, due to the special milestone of his 15th album '30', celebrating three decades in the business, Lloyd's fans will have to wait until February for the project to be completed.
But in the meantime, Lloyd's production company Riddimworks and JMG Inc. are giving away a free download of the track Private Life (Remix) taken from the new record.
It's a refashioning of Grace Jones' 1980 song into a duet with Lloyd featuring the original rhythm by Sly 'N' Robbie.
You can listen to the track on youtube here before downloading the full uncompressed WAV file at this link: http://dl.dropbox.com/u/10611794/Lloyd%20Brown%20feat.%20Grace%20Jones%20and%20Sly%20N%20Robbie%20-%20Private%20Life%20%28Remix%29.wav?dl=1
'30' will be released sometime in February 2012.