The latest in the long line of Trojan heavyweight, limited edition, 7" vinyl's to be released will feature two cuts originally recorded for Harry Johnson.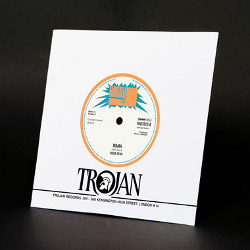 The first of these is Nora Dean, the one time lead singer of the Ebony Sisters. By 1973 Nora was regarded as one of Jamaica¹s best-loved female performers and therefore had many of Kingston's leading producers, principally Bunny Lee and Harry Johnson, vying for her services.
It was Johnson who struck first getting Nora to record one of her own compositions, Mama, sung over the renowned Liquidator riddim. Despite the popularity of both Nora and the riddim Johnson held back on its release allowing Bunny Lee to jump in record and release his own version over a revamped Liquidator which went on to sell strongly both in Jamaica and the UK. Due to Johnson's delay his original cut was now a non-starter and plans for its issue were quickly dropped leaving the track to be lost, hidden within an unmarked tape box for almost 40 years.
The flip side of the release sees another unissued cut from a similar period by a band who also worked for Johnson and almost every other producer of note for that matter…the Soul Syndicate. This Kingston-based group, who had been active on the local music scene since the late sixties, featured an array of local talent and soon became one of Jamaica's most in-demand outfits
The cut that is featured is the instrumental, Natty In Hong Kong which was among a number of sides intended for an album showcasing the group's talents, but once more saw the producer dither over its release so it to became lost in the mists of time.
Both of these reggae rarities recently saw issue on the 'Trojan Story Box Set', but are finally making their debuts as nature intended on vinyl, presented on the revived Harry J imprint and housed in a hand-numbered sleeve.
There are only 500 copies in total so visit the Trojan Store now to pre-order before the November 28th release.