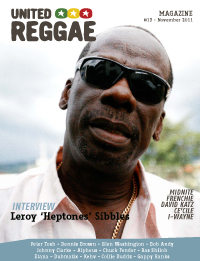 You can now enjoy the free pdf version packed with most of United Reggae content from November.
And we are proud to offer the second free digital music sampler together with this issue. It contains 17 tracks from several of the artists that are covered in this issue such as Leroy Sibbles, Alpheus, Gappy Ranks, Midnite, Dubtonic Kru and more.
Download the digital magazine and the sampler for free now!
This issue includes interviews from Leroy Sibbles, I-Wayne, Midnite, Frenchie, Ce'Cile and David Katz and also photos, reports, news and reviews.
The magazine can be read online or downloaded for free. And you can now also get a paper copy. Details here.