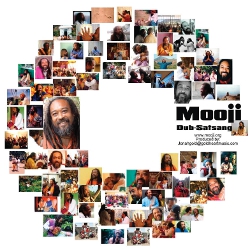 Out now on Goldheart Music is a 13-track album that crosses reggae with Indian philosophies. The album, titled 'Dub-Satsang', is from Mooji who released the free song Embodiment of Truth earlier this year.
Mooji was born Anthony Paul Moo-Young on 29th January 1954 in Port Antonio, Jamaica, before moving to the UK in 1969. He is presently living in Brixton, London where he has worked in the capitals 'West end' as a street portrait artist for many years, then as a painter and a stained glass artist as well teaching at Brixton College.
His style is not that of a singer but rather a poet whose delivery has a natural flow that falls beautifully into this style of music.
Mooji often holds Satsang, not just in the UK but in Spain, Italy, Germany, Sweden, North America, Argentina, Brasil, India and Poland. These gatherings are an assembly of persons who listen to, talk about, and assimilate the truth through the reading of scriptures, reflection, discussion and assimilating their meaning, meditating on the source of these words, and bringing their meaning into one's daily life.
Jonahgold says of the album "I feel I have a new concept of reggae, with an updated version of dub "poetry". I've put music to the words of Jamaican born Mooji, who is a direct disciple of Sri Harilal Poonja, the renowned Indian advaita master. This is the most direct no-nonsense approach to the core-instruction shared by all real mystical traditions, religions and philosophies: Know Thyself! Enjoy."
The album is digitally available worldwide now with free listening at Soundcloud.