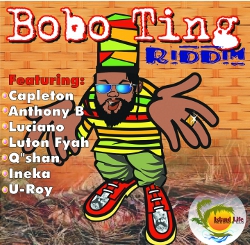 Island Life Records is proud to present its wonderful creation, the sprawling modern Roots Reggae set, the Bobo Ting Riddim and with it, it's sure to bring the attention of many fans of the genre. Why? In just a few tracks, the label has assembled one of the better lineups of artists on a single project in 2011. Appearing on the Bobo Ting are the likes of Capleton, Luciano, Anthony B, Lutan Fyah, the legendary U-Roy and others and that's only who you'll hear on the vocals.
Appearing behind the scenes on the riddim are the likes of big names Lynford 'Fatta' Marshall, Colin 'Bulby' York and the incomparable Dean Fraser. All mixed up in various functions combined with big vocalists mean on big project.
How big exactly? You don't have to wait to find out. The Bobo Ting Riddim from Island Life Records is currently available on etailers across the globe.