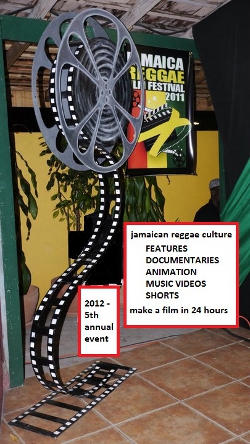 The Jamaica Film Academy has put out an international call for entries to their 2012 Jamaica Reggae Film Festival, to be held during April in Kingston.
It is five years since this annual festival began and in that time the academy has showcased more than 200 films highlighting reggae culture made by Jamaicans, as well as global reggae researchers and fans from all around the world. Many of these documentaries have focused on the history of Jamaican music and its makers, leaving the Jamaica Film Academy with an archive of historical material on the genre that preserves on film the oral memories of a culture that that emerged from the Rastafari movement and spread to and been honored by the world. It is hoped that next years festival will carry on this fine tradition and feature many aspects of Jamaica's Reggae music culture in feature, documentary and short films as well as animation and music videos.
The 'Make A Film In 24 Hours' competition sponsored by RBC Bank - Jamaica, will be held again, with last years seeing 15 film crews competing to shoot a 5-minute film on a selected theme in just 24 hours for cash prizes and awards. The festival will also include the introduction of a new 'International Programme', of films outside the reggae genre, so as to enable the inclusion of entries already received from Africa, the USA and the Middle East including an entry from Iran!
Awards are presented across several categories with the winners of these finding it has helped promote international interest in the unique music and culture of Jamaica and given way to the opportunity of further international recognition and distribution in their work.
Further information and Entry Forms can be found on the JFA website: www.jamaicafilm academy.org.