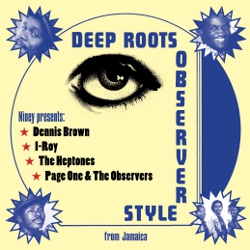 Winston "Niney" Holness is one of the most successful reggae producers from the 70's usually recognized for his deep and sparse take on roots reggae. During his prime he worked with all of the greatest artists from Jamaica.
Some of his work is now collected in the four CD box set 'Deep Roots Observer Style', a box set that includes three rare albums alongside a fourth that brings together his hit singles recorded with I-Roy during 1976 and 1977.
Featured in the box set are also Dennis Brown's 'Deep Down', The Heptones' 'Better Days' and Page One & The Observers' 'Observation of Life Dub'.
The fully illustrated booklet comes with liner notes provided by reggae historian Noel Hawkes.
'Deep Roots Observer Style' hits the shelves on February 13th on 17th North Parade.