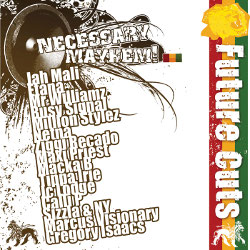 Producer Curtis Lynch of Necessary Mayhem fame is set to drop the label's fourth album release – 'Future Cuts'. It features a wide array of artists from Europe, North America and Jamaica and previews tracks from forthcoming 2012 riddim releases as well as new mixes of Necessary Mayhem classics.

Among the artists that shine of 'Future Cuts' are Maxi Priest, Ziggi Recado, Sizzla and Necessary Mayhem veteran Mr. Williamz.

'Future Cuts' is available on February 7th on LP and one week later as digital download..