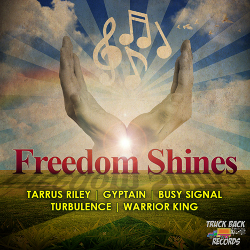 Freedom Shines – a relick of the Freedom Blues riddim – is the brand new riddim from Truckback Records and marks the 50th anniversary of Jamaican independence in 2012.
Truckback producers Adrian and Steve Locke have injected the dancehall classic with up-to-the-time vibes for Tarrus Riley, Gyptian, Busy Signal, Warrior King and Turbulence, artists that contributes with contemporary narratives.
"The Freedom Shines riddim is one way for Jamaica's older and younger generations to come together through music. Going into the project, we wanted to use the power of music to unite Jamaica. Freedom Shines brings together the old and the new – everything old is new again," says Steve Locke in a press release.
Adrian Locke adds:
"Tarrus, Gyptian, Busy, Warrior and Turbulence loved the idea of reintroducing a classic with a special spin on it."
The cuts from Tarrus Riley, Warrior King and Turbulence will be available on iTunes from 7 February.