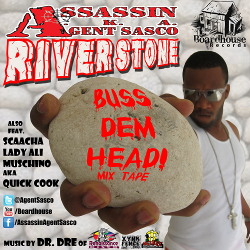 Jamaican deejay Agent Sasco – formerly known as Assassin – has dropped a new mixtape with guests Scaacha, Lady Ali and Muschino aka Quick Cook.
'River Stone Buss Dem Head Mix Tape' is produced by Boardhouse Records and boasts no less than 63 tracks recorded in soundsystem style over one riddim only – Madhouse Records' Showtime.
This one's for all hardcore dancehall fans around the globe. Check the free download here.