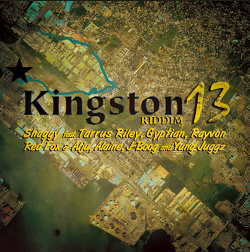 Featured on reggae superstar Shaggy's latest album – which was released on February 7th in Europe – is the Tarrus Riley combination Just Another Girl.
This tough one drop is produced by Shaggy associates Ranch Entertainment, and is now graced with another set of versions from Alaine, Yung Juggz, Gyptian, J Boog, Rayvon and Red Fox & Alju.
Kingston 13 is the title of the riddim and it is currently available on digital platforms worldwide.