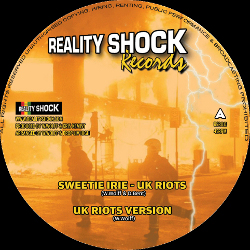 Back in August last year the UK witnessed some of the worst riots there since 1981. The riots began following a peaceful march in response to the fatal shooting of Mark Duggan by Police on 4th August 2011, in Tottenham, North London. In the following days, rioting spread to several London boroughs and districts and eventually to several other cities and towns across England. Now one of the UK's reggae leaders Reality Shock Records have released a new 12" EP produced by Kris Kemist and William Wolff, producer of Capleton's hit song Prophet Rides Again.
Reggae music has always been the sufferer's music, giving a voice to the poor and disenfranchised, enabling them speaking out against injustice and inequality within society. This record continues that tradition on a classic one-drop that serves as the backdrop to 3 of the UK's top reggae vocalists. Each vocalist brings his own style to the table with the first up being the gruff and ragged veteran of the dancehall scene Sweetie Irie. Sweetie's uses his cut to speak on behalf of these youths, declaring that "dem nah go keep quiet" in his song UK Riots.
This is then followed by the harmonious Aqua Livi on the potent Riot In The Streets, a song about the lead up to the riots and how the blame for the chaos that ensued lies with the police and their constant brutality and injustice.
Then comes rising star Valorous with Never That encouraging youths not to drop their guard against Babylon in these turbulent times. Finally to finish things off is a version featuring the guitar, kete drum and percussion of Kris Kemist, rocksteady by Yannis Rock Radio Hermes, bass from Ross of the Upper Cut Band and keys by Prof Liv-high with the whole thing being mixed by Dilly at the world renowned Stingray Studio.