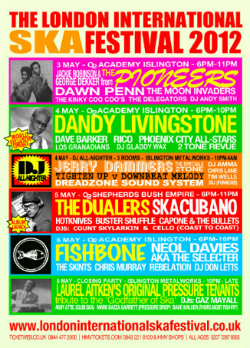 The London International Ska Festival, taking place this year between Thursday 3rd May and Sunday 6th May, is fast approaching and line up is really taking shape to be the biggest and best yet. There will be a great mixture of old and new ska, rocksteady and reggae performers from around the world at the two venues being used to hold the event, the O2 Academy Islington and the O2 Sheperds Bush Empire plus a third venue the Islington Metalworks, 7 Torrens St, London, EC1V 1NQ which is just 3 minutes from Islington O2 Academy and Angel tube station and will be the place to be on the Friday night as it hosts a special after show DJ All-nighter from 10pm to 6am.
The festival starts at 6pm at the O2 Islington Academy, running through to 11pm, with Jamaican legends the aptly named Pioneers, Dawn Penn, Belgium's The Moon Invaders, Kinky Coo Coo's from Spain and The UK's Delegators with DJ Andy Smith keeping crowds entertained between sets.
Friday its Islington again as singer and writer Dandy Livingstone (aka Robert Thompson) takes to the stage with support form Mr 'Shocks Of Mighty' Dave Barker, renowned trombonist Rico Rodriguez, who appeared on Dandy's original 'Rudy A Message to You' and The Specials remake a decade later. Then there are Phoenix City All-stars, another Spanish act Los Granadians and Gladdy Wax filling in on DJ duties. When this show finishes its then off round the corner for the all-nighter with DJ sets from Soul Jazz Records 100% Dynamite, Tighten Up v Downbeat Melody, Chris Lane and Tim Wells.
Saturday evening the venue changes to the O2 Sheperds Bush Empire for The Dualers 'Tribute To Prince Buster' album launch party. Here they will be ably supported by Ska Cubano who take an exquisite mix of multi-award winning mambo, calypso, cumbia and reggae and turn it into one almighty Ska explosion. Plus there is the return of one of last years highlights the original line up of Hotknives along with Buster Shuffle and reformed Scottish outfit Capone & The Bullets. Your DJ for the night will be DJ Cello of Coast To Coast.
The event then comes to a close back in Islington on Sunday at the Academy with Californian misfits Fishbone and their hi-powered blend of funk-frenzied Ska, punk, soul, UK 'Do The Dog' acts The Skints and Rebelation plus founder of 2-Tone co-innovators The Selecter, Mr Neol Davies, with a sharp and powerful ten piece band playing classic hits and new songs. The DJ and host for this final evening will be the Grammy winning filmmaker/musician/DJ that single handedly turned a whole generation of punks onto reggae Don Letts.
Tickets are still available now from: www.londinternationalskafestival.co.uk and with more events and bands still to be announced it looks like London will be rockin' to the sounds of Ska in May.
To keep up to date with what's going on you can join the Ska fest on facebook.