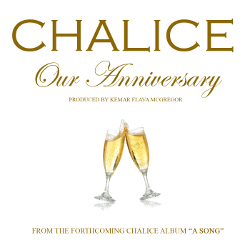 Jamaican veteran band Chalice drops their new Flava McGregor-produced single Our Anniversary today. Our Anniversary is the lead single from their forthcoming anniversary album 'A Song', due in April.
Already released as part of the Club Dance riddim compilation, Our Anniversary has benefited from heavy rotation at reggae stations worldwide, and has entered the BBC World Reggae Beat Top 10 Chart in the UK.
Our Anniversary is available via iTunes, Amazon and other online retailers.