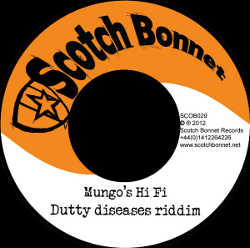 Mungo's Hi Fi are getting the new year underway by launching a set of 7 inch vinyl's featuring vocalists YT, Daddy Scotty, Mr Williamz, Sister Carol and Daddy Freddy riding on their cut of the classic riddim Dutty Diseases.
The riddim has been a staple in Mungo's Hi Fi sets for the last year and the Mr Williamz cut Computer Age appeared on their 'Forward Ever' album, though here it is in a Duttiest mix. YT and Daddy Scotty also appeared on this album, but chip in here with World News and Wicked Tings A Gwaan respectively. Sister Carol, who began chatting after a meeting with Brigader Jerry, gives us Cuture Mi Vote, while Daddy Freddy adds some ragga style on Dread Inna Armagideon.
If you're into your vinyl then visit Scotch Bonnet Records quick as there are only a limited number available.