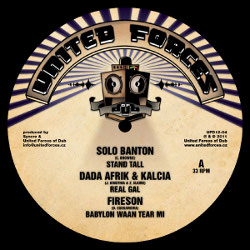 Hiding away in the Czech Republic is a collective called United Forces Of Dub who also run a small independent label. Apparently for several years now they have been organizing popular club evenings and genuine sound system dances hosted by selectors and producers Yukimura aka Mustakillah Sound, Wild-I aka Dubble-U and Nattynational Rockers aka Red-I along with Kool Dread plus participation from Prague's multi-genre sound system Roots'n'Future.
They have now just released the joint project Amiga Riddim, with Syncro, a 6 track vinyl 12" EP, that features the multinational vocal talents of Solo Banton from the UK, young African lioness Dada Afrik & Kalcia, fellow African Fireson from Kenya, the Jamaican Rueben Mystic and Trinidadian Juakali all riding on their own shiny little gem of riddim blended from organic and techno sounds featuring touches of echoic, haunting melodica.
Not only are the vocalists multinational but the whole project is well travelled having started life at the home base of Gunjah and Mustakillah studios in Czech Republic, before moving on to Conscious Sounds in London and then finally to Nairobi and Syncro's mobile studio where he and Mustakillah Sound produced the final mix with different arrangements for each tune.
For more information and to buy this release visit their website at www.unitedforces.cz. Here you will also find their 3 previous 10" vinyl releases featuring an array of artists including Kenny Knots, Vibronics, Jah Free, Petr Mikovec, Sandeeno and Dougie Conscious.
The name of United Forces of Dub maybe new to some but on the strength of this and the previous releases plus a special 12" EP by Prague based international band United Flavour titled 'Dub Attitude', featuring selected dub versions mixed by Derek Fevrier, the sound engineer working with Twinkle Brothers and many other reggae-dub productions worldwide due out in March and more heavyweight 10" vinyl with vocals from Dixie Peach and Queen Omega promised for later this year I'm sure it won't be long before this hidden treasure of a label is discovered by more.