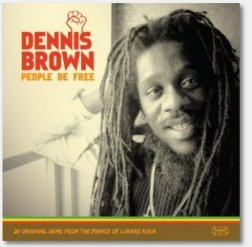 After the two compilations Foolish Men and My Heart Is An Open Book released in 2007, new Orange Street label keeps going on and will soon release a third compilation of Dennis Brown's songs. People Be Free due out January 14th 2008 features 20 tracks produced by Niney The Observer.
From 70's roots songs as You're My Enemy and Melting Pot to modern roots productions as People Be Free (Black Liberation) or Buss Off Head with Yami Bolo, the British label delivers a good compilation as for The Crown Prince of Reggae fans as for novices.
Till then, you can still listen to the two first compilations and read the review of Foolish Men.